Setup
Once you pick the perfect spot for setup, Darche Panorama installation instructions couldn't be simpler. All you need to do is unzip and remove the cover, unlatch the straps holding the tent together, and pull out the ladder. The tent will unfold to its full length once you set the ladder at a 60 to 70-degree angle.
After that, the Darche Panorama roof top tent needs just a couple of quick adjustments to be ready. You'll need to insert the support poles into the frame, hammer down the pegs into the ground, and place the flexible support rods to hold the window flaps open. Even with a single pair of hands, the setup takes barely five minutes, and pack up is equally easy and fast.
Check out the video tutorial by Darche to see for yourself and consult the user manual for more details.
Size & Weight
According to the official website, the Darche Panorama 2 dimensions are 1400 by 2400 mm with a height of 1250 mm, making it a great choice for sleeping one or two adults comfortably. When the tent is packed down and secured on the roof of your truck or SUV, it becomes one of the smallest options of the market, with a height of merely 290 mm (ladder included). The length and width are 1215 mm by 1435 mm, accordingly.
While a softshell RTT is much lighter than a hardshell, Panorama is by no means lightweight. You will likely need help to get the 63.6 kg contraption on the roof of your truck and get it secured for transit and camping.
If you're on the market for a Darche Panorama 2 roof top tent with annex, you'll have a couple of options to choose from. The shorter annex is 2.5 by 2 meters and 1.8 meters high, weighing around 7 kgs. The taller model measures the same but has a height of 2.1 meters and a weight of almost 7.5 kilos.
On a side note, this tent's latest iteration comes in two sizes, 1400 and 1600 mm wide. The latter model could fit up to three people, though you'll need to make sure the roof of your 4WD is large enough to fit the tent securely.
Darche Panorama 2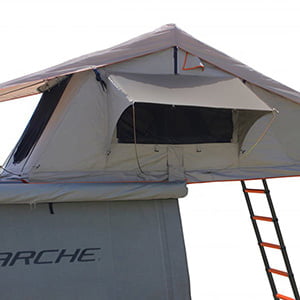 Size (close/open), cm
121.5L x 143.5W x 29H
240L X 140W x 125H
Capacity, people
2
Weight, kg
63.6 kg
Cover Convenience
7/10
Durability
6/10
Ease of Installation
6/10
Delivery set
Mattress, ladder, mounting kit, guy ropes, window poles, pegs, instructions
Materials
There's nothing worse than sinking a couple of thousand dollars into an RTT for it to fall apart after one camping season. That's why we're always on the lookout for high-end models designed with durability in mind, and Darche roof top tent Panorama 2 is an excellent example of solid craftsmanship.
The khaki canopy is made of a 320 gsm ripstop cotton-polyester blend with 1500 PU waterproofing. The bucket floor is 550 gsm PVC, and the frame and poles are made of a light yet sturdy aluminum alloy with stainless steel parts where durability and strength are paramount. Throw in a laminated cover of 600 gsm PVC, and you've got a camping setup that will keep going for years to come.
The 50 mm foam mattress is the only thing we've found complaints about in a Darche Panorama 2 review or two. If you want to make your sleeping quarters extra comfy, consider investing in a thicker foam mat or a self-inflating mattress.
Weatherproofing
If you're looking for a winterproof Darche roof top tent, Panorama 2 might not be the best choice. But if you're not into camping in the snow and want to get out spring through fall, this tent will fit your needs to a T. The waterproof canopy holds up to heavy rainfall, the window covers keep the water from seeping through air vents, and the twin needle lock stitched seams protect the connection points from getting soggy.
The canopy's cotton-poly blend doesn't trap much heat inside, so you'll need toasty sleeping bags for near-freezing conditions. And in the summer, the tent can get a bit stuffy if you close the window covers against the rain.
Features
Excellent ventilation is a definite upside to choosing the Darche Panorama 2 RTT. Aside from the full-length windows covered with fine mesh to keep the critters out, the tent comes with a stargazing window in the middle of the canopy. It makes for cooler summer nights and turns any camping trip into a romantic getaway, providing comfort and safety while still making you feel like you're sleeping out in the open.
Besides, Darche is a respectable company with a spotless reputation and excellent customer service. So whenever your RTT becomes a little worse for wear, you can get your hands on a new mounting kit, ladder, hoops, or hinges. All these and more are readily available via the official website or retail outlets.
Summary
Like any other Darche roof top tent, Panorama 2 has its ups and downs, though the sturdy build makes up for a thin foam mattress and the lack of heat insulation. This model is roomy enough for two people and takes no more than five minutes to set up and pack up. Moreover, we couldn't find a single negative Darche Panorama 2 review, as most campers are super happy with the brand.
Is the Darche Panorama 2 price reasonable? It sure is if you're looking for an RTT that will last for years without wear and tear. In our minds, quality materials and clever design are well worth the extra expense. Check out the specs, and you'll see no RTT comes close to beating Panorama 2.