Installation
For detailed instructions on the Darche Intrepidor 2 RTT installation, I suggest you refer to the user manual. You should receive all the necessary hardware with your tent order, though your SUV or truck should have the mounting brackets or a double crossbar setup. You will also need a friend or two to help you out, so the tent is likely to stay mounted on your car for a while.
After the initial installation, camping setup is a breeze, and it takes five minutes tops. All you need to do is unzip the cover, pull out the ladder and press it into the ground at a 60-degree angle. Once the ladder is stable, you'll go up into the tent to push the frame rods into their respective holes and set up the rods to keep the window covers open. The last step is optional, especially if you want the tent to stay warm and dry after a storm.
Check out the short video tutorial and see how easy it is to set up Darche Intrepidor 1400.
Size & Weight
Once unfolded, the Intrepidor's dimensions are a respectable 2.4 by 1.4 meters. That's just a tad narrower than a standard queen mattress, so you'll feel comfy by your lonesome or with a partner. And you'll have plenty of space for storing your gear inside the roomy pockets. At 1.25 meters high, the tent's roof isn't high enough for standing upright, but it's plenty tall for sitting comfortably.
According to one Darche Intrepidor 2 roof top tent review, the folded tent may cause some issues when driving, as the RTT doesn't improve your SUV's aerodynamics. At 35 cm high, the tent increases drag. However, it usually leaves enough space for mounting extra storage, as it only measures 1.215 by 1.435 m when folded.
For all its spacious sleeping area, Darche Intrepidor is surprisingly lightweight at only 52 kg. You will still need at least one extra pair of hands for initial installation and fiddling with the mounting kit. But after you're done, the setup and pack-up take no time, as you've already learned.
Darche Intrepidor 2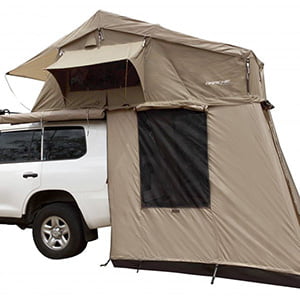 Size (close/open), cm
121.5L x 143.5W x 35H
240L x 140W x 125H
Capacity, people
2
Weight, kg
52 kg
Cover Convenience
5/10
Durability
5/10
Ease of Installation
5/10
Delivery set
Mattress, ladder, mounting kit, guy ropes, window poles, pegs, instructions
Materials
Darche Intrepidor 2 combines the best of the camping and automotive worlds in a single sleek package. The aluminum frame is made of 25 mm pipes, and the hinges are stainless steel for extra strength and durability.
The newest edition of the RTT comes with an orange coated HD compressed alloy baseboard and a canopy of the khaki ripstop canvas (260 gsm polyester-cotton blend) with 1500 PU waterproofing. And the cover is a 600 gsm PVC treated to prevent cracking and withstand harsh UV light.
Finally, there's the 65 mm foam mattress with a water-resistant cover that ensures your nights are comfortable and your bedding stays dry and warm regardless of the downpour. You can supplement the setup with a self-inflating mattress, but it will add up to $600 to your camping budget.
Weatherproofing
Thanks to the four large windows, Darche Intrepidor 2 rooftop tent is perfectly ventilated and can remain surprisingly cool through stifling summer nights. The same windows are protected by waterproof covers that can be folded down and fastened in place to protect your sleeping setup from rain and wind if you go camping in the spring or fall.
I couldn't find a single Darche Intrepidor review on how the tent handles winter snowstorms. I doubt the ripstop fabric can hold onto much heat to keep you comfortable in the frigid air. Even if you go with an insulated sleeping bag, you're better off letting your RTT wait till the first warm spring days before you go camping again.
Features
Sky Window is the most lauded and beloved feature of the Darche Intrepidor 2 roof top tent owners. For one, the huge opening provides the much-needed air circulation to keep the temperature inside comfortable even in the summer heat. For another, the window provides a direct line of sight to the stars at night, creating a perfect illusion of camping in the open air even while you stay on the roof of your truck.
Modular design is another advantage of going with Darche Intrepidor 1400. The company offers plenty of extras to take your camping experience to the next level. For instance, you can go with a sturdier or longer ladder. You can also invest in an awning or annex for extra ground-level comfort.
Pros and Cons
When it comes to the best roof top tent, Australia is ripe with offers, but the Darche Intrepidor 2 roof top tent is head and shoulders above the competition. You get durable, high-end materials for every part, from frame to cover, and the clever design means the setup and pack-up take five minutes if that. Besides, the five-window ventilation setup is unbeatable, and the stargazing window is to die for.
On the downside, the ladder is only 2.1 meters long, unlike those in Hi View or Panorama models. And the pins securing the right length can be a bit finicky; you might have to push and pull them a few times for the pins to lock in place. The same issue is mirrored in the cover zipper that can sometimes snag on the tent canopy, making you wish for velcro closures.
Do these small issues annoy Darche Intrepidor 1400 owners? Sure. Do they detract from the glory of this tent? No way!
Summary
What's the takeaway from this Darche Intrepidor 2 review? The RTT is super versatile thanks to its modular design and super comfy thanks to five windows (including the stargazing one) and a 65 mm foam mattress. It could use a better ladder and cover zipper, but these downsides are easily overlooked considering the affordable price tag and excellent customer support by Darche.