ARB Simpson III Roof Top Tent Review
This top-of-the-line ARB roof tent is perfect for extended outback adventures for solo travelers and trips with friends or family. Not only is it built to last and keep you comfortable, but the ARB tourer roof top tent is full of small features that make a world of difference in everyday use.
Size & Weight
As far as ARB rooftop tent dimensions go, the 240 cm by 140 cm footprint isn't that bad for a solo traveler, an adventure-loving couple, or even a family with a small child. At 130 cm at its highest, the ARB Simpson III rooftop tent offers plenty of headroom for sitting comfortably. And when you're ready to hit the off-road again, the setup folds neatly into a compact 140 cm by 120 cm form. The only downside to the design is the significant (40 cm) height of the packed-up tent that messes up aerodynamics and ratchets up fuel consumption, even if it allows you to store bedding inside the canopy.
And if you think you can get this RTT set up on your own, think again. The thing weighs 81 kg, and even if you take off the ladder, it's still too much for one person to handle safely. It's no wonder that many a roof top tent review mentions what a hassle the initial setup becomes.
ARB Simpson III RTT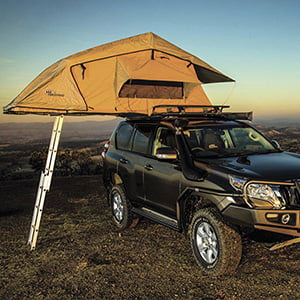 Size (close/open), cm
140W x 120L x 30H
140W x 240L x 130H
Capacity, people
2
Weight, kg
81 kg
Cover Convenience
7/10
Durability
7/10
Ease of Installation
6/10
Delivery set
Annex, two elevated shoe pockets, mattress, ladder
Materials
Simpson III is the ultimate ARB touring roof top tent, as it's suited for all-season conditions. The heavy-duty ripstop polycotton canvas is super-sturdy with a density of 300 gsm. It's treated to be waterproof while remaining breathable. And the door and windows come with fine mesh covers to keep the nasties out while letting you enjoy the breeze.
The sturdy design is mentioned in plenty of ARB Simpson III rooftop tent reviews, and we wholeheartedly agree with those claims. The frame is well-made and constructed with 25 mm by 1.2 mm aluminum tubes coupled with stainless steel hinges. And the foldable ladder is made of anodized aluminum too, for corrosion protection and nice looks. The cover is UV-treated PVC with velcro straps, perfect for keeping the tent dry and clean in transit.
Features
Whenever you're going on a week-long trip into the wild, storage space becomes a priority. ARB designers understand this issue and offer plenty of room for you to store your gear and accessories. The two shoe pockets are ready and waiting outside the tent to keep the mud out of your bedding. And the inside of the tent is fitted with an assortment of pockets to hold your water bottles, keys, and gadgets. You will also find a high-density memory-foam mattress inside, 65 mm high and comfortable enough for side and back sleepers. You can always toss in a bedroll or topper to make it even cozier.
The aluminum ladder isn't telescopic, so you may need to fiddle a little to find the right angle that fits the height of your 4WD. At least, ARB made it easier for you to get in and out of the tent with a couple of straps near the door to hold onto.
What's better than an ARB Simpson 3 rooftop tent? A combo of the tent with an annex that can double as a changing room, a rain cover, or an extended sleeping area. Every Simpson III RTT is now sold with a zip-on annex, turning this model into a truly one-size-fits-all solution.
ARB Kakadu Roof Top Tent Review
When it comes to testing the durability and breathability of an ARB rooftop tent, Australia offers the rugged conditions you need. And if you decide to venture North, Simpson III will be too much of a heat-trap to stay comfortable. At the same time, Kakadu, with its superior ventilation and equal footprint, will perform admirably.
Size & Weight
The lightest of the ARB tent models, Kakadu, is barely 59 kg, with mounting rails and ladder. So mounting this RTT will be much easier, even if you'll still need a buddy to help you get the weight on top of your Jeep.
Considering the difference in mass, the Kakadu specs are surprisingly similar to Simpson III. When you set up camp, the ARB roof top tent measures 140 cm by 240 cm with a maximum height of 130 cm. Once the tent is folded for transit, it's only 140 cm by 120 cm, and the height is 40 cm, which seems to be a staple for ARB, though it's significantly higher than what other manufacturers offer. On the upside, you get to keep your bedding inside the tent and save room inside the truck.
ARB Kakadu RTT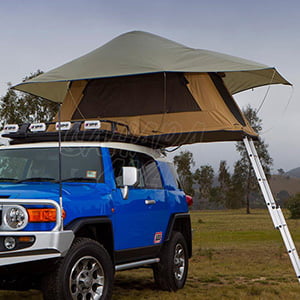 | | | |
| --- | --- | --- |
| Size (close/open), cm | | 140W x 120L x 40H 140W x 240L x 130H |
| Capacity, people | | 2 |
| Weight, kg | | 59 kg |
| Cover Convenience | | 7/10 |
| Durability | | 7/10 |
| Ease of Installation | | 6/10 |
| Delivery set | | Mattress, ladder |
Materials
Designed for hot conditions, the ARB Kakadu rooftop tent relies on a ripstop polycotton canvas with a polyurethane coating to keep the rain out while letting the breeze in. The door and huge windows provide ample air circulation, even when covered with an Oxford weave flysheet to keep the moisture out. And when it's sunny out, you can keep the windows open, covered only with a fine mesh to stop bugs from getting in. The 65 mm mattress is an impressive yet lightweight high-density memory foam, though a replacement chip foam mattress is available too if you prefer a firmer bed.
Like Simpson III, Kakadu is constructed around a lightweight and sturdy aluminum frame with stainless steel hinges and an anodized coating to prevent corrosion. The ladder is a foldable affair made of aluminum too. It isn't telescopic, so it may take a few tries to find the perfect angle for your 4WD. The whole thing is packed tight under a UV-stabilized laminated PVC cover that zips up tightly to prevent dust and water from ruining your bedding.
Features
According to many an ARB Kakadu rooftop tent review, the tent is a pleasure to pop up. It takes barely five minutes to unzip the cover and pull the ladder down to unfold the canopy. And the clever bungee cord system will help accelerate the pack up by pulling the canvas folds together so that they don't snag on the cover zipper.
Ventilation is Kakadu's prime advantage, as it comes with four large openings, producing a steady breeze even during the hottest nights. While there aren't many storage options out of the box, you have a huge array of ARB accessories to choose from. Shoe bags or swags may be the first on your list, though we also recommend you get an awning to provide an additional ground-level shaded area.
Pros of ARB Roof Top Tents
The company has been around since 1975, when the 4WD culture was in its infancy. Tony Brown saw the demand for reliable gear and the endless potential of high-quality accessories. That same passion to build the finest camping equipment drives the company today, and it's no wonder ARB products are sold across 100+ countries. Highly automated manufacturing and stringent quality control translate into outstanding performance described in hundreds of positive ARB rooftop tent reviews.
For all the top-shelf materials, professional design, and high-end accessories, the ARB rooftop tent prices remain very affordable. While not the cheapest, the ARB RTTs are well-placed in the middle of the price range, offering an unbeatable value for money.